from a half day to 5 days, example: Rando type 3 days.
Rando "

spéciale quads sous les étoiles

"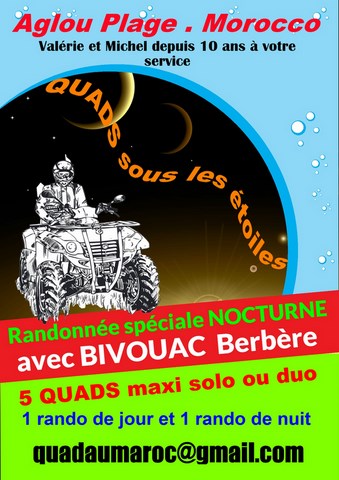 ​NOUVEAU!!!
Cette randonnée offre une particularité, un PARCOURS de NUIT !
D'une durée de 2 ou 3 heures, le départ se fait à partir de notre bivouac situé au pied de l'Anti atlas, sur la commune de Ouijjane! ( 25 kms de Tiznit, par la route de Tafraoute)

Après le brieffing en fin d'après midi et le repas du soir pris au restaurant du bivouac (sous les palmiers bleus) le départ sera donné en début de soirée, pour une boucle de 2 heures sur les pistes autour du village!

A votre arrivée, une boisson fraiche, un thé de bienvenue avec dégustation de l'huile d'olive bio du terrain et son pain cuit au feu de bois devant vous vous attend.

Suivi par une soupe à l'oignon ou une harira, avant un repos bien mérité sous la tente Nomade .

bien sur la douche chaude et un bon lit sont à disposition!

Le landemain, pour ceux qui désirent passer une journée supplémentaire au "village nomade", après un petit déjeuner copieux, une journée détente , avec animations softs, piscine, balade ds la palmeraie, hamac, etc.... SOIREE COUSCOUS ou côtes de chameau, côtes de boeuf, grillades diverses, brochettes, frites maison, sous les oliviers , ou dans notre salle de restaurant en cas de mauvais temps !

​Cete randonnée est bien sur à la portée de tous , conducteur seul ou en duo ! Mesdames vous etes les bienvenues!
Une rando type de 3 jours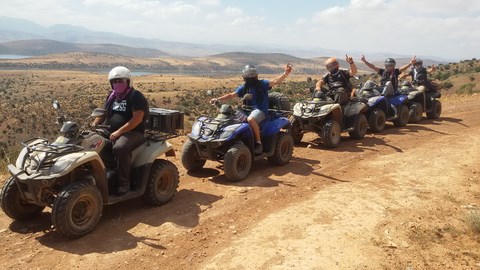 - jour 1 :
Departure d Aglou Village, tracks in the village, the gardens, the Coopérative d Argan oil, Aglou dunes and the typical caves of fishermen, in gourmet PICNIC lunch...(kitchen traditional Berber and Moroccan, warm service, with beverage of your choice) the plain, the runway of the return by the Ouijjane Palm Grove Lake.
Night into bivouac perso.

- jour 2 :
After the traditional breakfast taken in the Bled, departure by the slopes of mountains and desert plains, with crossing and isolated Douars out tours!
Arrival at the gates of the desert! The source of hot water, the desert landscapes.
night in farm Inn or Guest House.

 - jour 3: 
Fantastic landscapes, visit Palmeraie, Douars, argan, herds, Gourmet picnic, return to the villages through beautiful mountain slopes.
If the weather permits, walk walk on the beach and tea offered on the terrace at the edge of the Ocean!
night in Apart Hotel, restaurant / pool.


All our walks are all inclusive excluding flights.


water fresh throughout the 3 days is included. the 4 x 4 for assistance is equipped with a high-performance cooler! (supplement sodas, beers and drinks at the Restaurant and Bivouac).
​
Also included, fuel, complete equipment, gloves, helmet, cutting wind, first aid kit.
For any use of our quads, a deposit (€ 200 or 2000 DH) cheque is requested before your departure, if, in the very unlikely case due to improper use of the equipment was regrettable)