from a half day to 5 days, example: Rando type 3 days.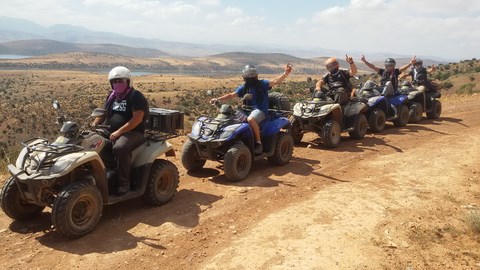 - jour 1 :
Departure d Aglou Village, tracks in the village, the gardens, the Coopérative d Argan oil, Aglou dunes and the typical caves of fishermen, in gourmet PICNIC lunch...(kitchen traditional Berber and Moroccan, warm service, with beverage of your choice) the plain, the runway of the return by the Ouijjane Palm Grove Lake.
Night into bivouac perso.

- jour 2 :
After the traditional breakfast taken in the Bled, departure by the slopes of mountains and desert plains, with crossing and isolated Douars out tours!
Arrival at the gates of the desert! The source of hot water, the desert landscapes.
night in farm Inn or Guest House.

 - jour 3: 
Fantastic landscapes, visit Palmeraie, Douars, argan, herds, Gourmet picnic, return to the villages through beautiful mountain slopes.
If the weather permits, walk walk on the beach and tea offered on the terrace at the edge of the Ocean!
night in Apart Hotel, restaurant / pool.


All our walks are all inclusive excluding flights.


water fresh throughout the 3 days is included. the 4 x 4 for assistance is equipped with a high-performance cooler! (supplement sodas, beers and drinks at the Restaurant and Bivouac).
​
Also included, fuel, complete equipment, gloves, helmet, cutting wind, first aid kit.
For any use of our quads, a deposit (€ 200 or 2000 DH) cheque is requested before your departure, if, in the very unlikely case due to improper use of the equipment was regrettable)